This whole grain spaghetti recipe with bacon and kale is a truly Nordic inspired dish, because here in Denmark and the Nordic countries in general, we LOVE our whole grains. And in Denmark especially rye!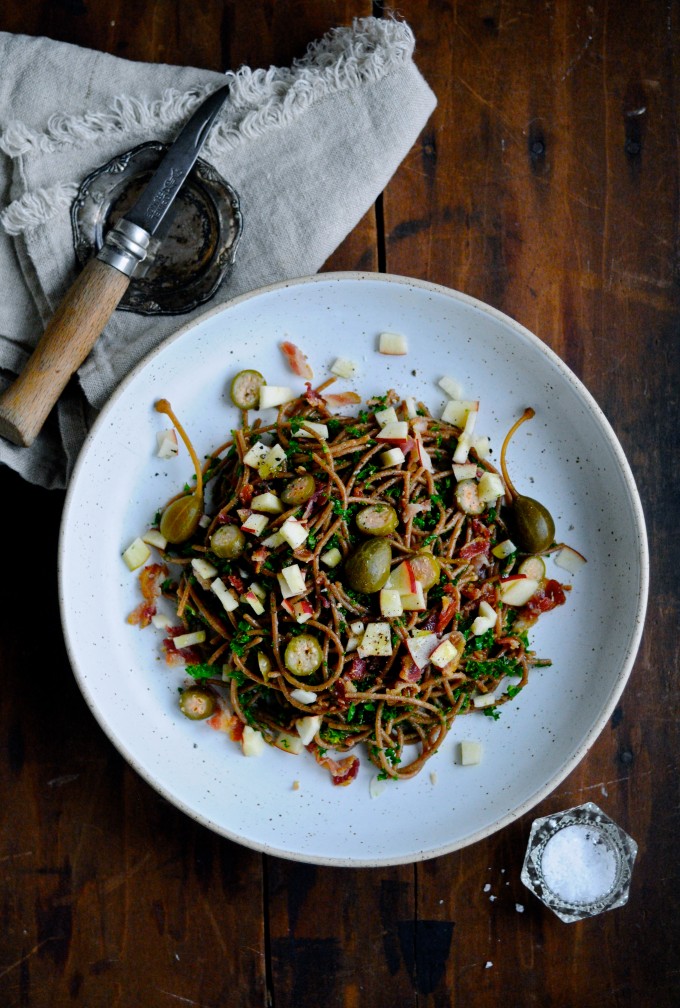 Our darling RYE
Maybe you've heard of the Danish rye bread, which is sour dough bread and which we normally eat together with different toppings for lunch but also breakfast and dinner sometimes, when dinner needs to be ready fast.
In this recipe, I've used rye spaghetti. But if you can't get a hold of it, just substitute with another whole grain version like for example spelt or whole wheat. That works just fine.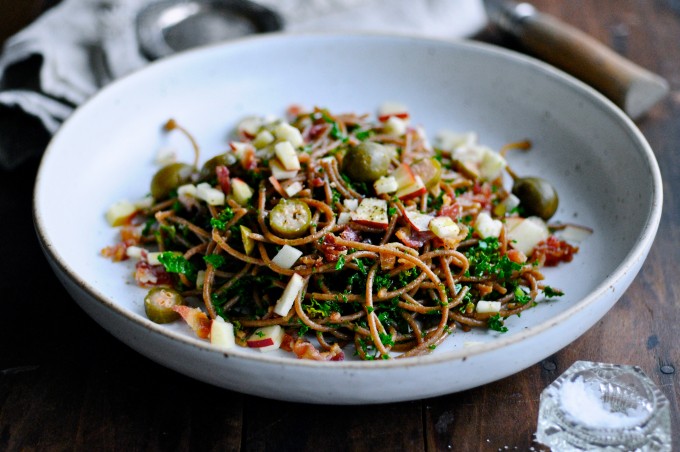 Whole grain spaghetti, whole grain tortilla, pizza…
As I aso talked a bit about in this post with my chicken and cheese quesadillas you can get so many products in a whole grain version here in Denmark. And I'm glad because dietary fibres are so important for us and our health. So every time I make for example homemade pizza or pita bread I always sneak in a little extra whole grain flour or add some oats or rye flakes. For the taste but indeed also for the health benefits.
Whole Grain Spaghetti with Bacon and Kale
Lovely whole grain spaghetti recipe with kale, bacon and caperberries. A whole grain pasta dish with a Nordic twist!
250 gr (8.8 oz) rye spaghetti ((or another whole grain pasta))
75 gr (2.6 oz) finely chopped kale
150 gr (5.3 oz) good organic bacon
1 tbsp olive oil
1/2 red apple
caperberries
salt
freshly ground pepper
Fry the bacon on a hot pan until it is nice and crispy. Let it cool.

Cook the pasta according to the package's instructions in lightly salted water. When the pasta is al dente, drain and add 1 tbsp. of olive oil to the cooked pasta, so it does not stick together.

Cut the apple into small pieces.

Mix the finely chopped kale with the warm pasta. Chop the crispy bacon and mix it in. Finally, add apples and caperberries.

Place the pasta on two plates and sprinkle with salt and lots of freshly ground pepper. Finish with a nice drip of a good olive oil.
Super easy pasta dish
This whole grain spaghetti recipe is so easy to make and with ingredients that really do well together. What can I say. Bacon, kale and caperberries are really the perfect match. And when you mix them with olive oil and toss it with the best pasta, you've got a winner!