This recipe features a real summer salad and a beautiful blueberry vinaigrette that is bursting with flavour. It is one of my favorite summer salads and I love serving it for guests, as it really lights up a dinner or lunch table.
Right now there are so many blueberries. You can really tell that it's in season. Both in the supermarkets there are many as well as out in the nature. I just went to Sweden for the Summer holiday and we found so many blueberries in the Swedish woods. So now my freezer is packed! Lucky for me since I just love blueberries, but really who doesn't?! I've never come across anyone who didn't like these little sweet and tangy vitamin bombs.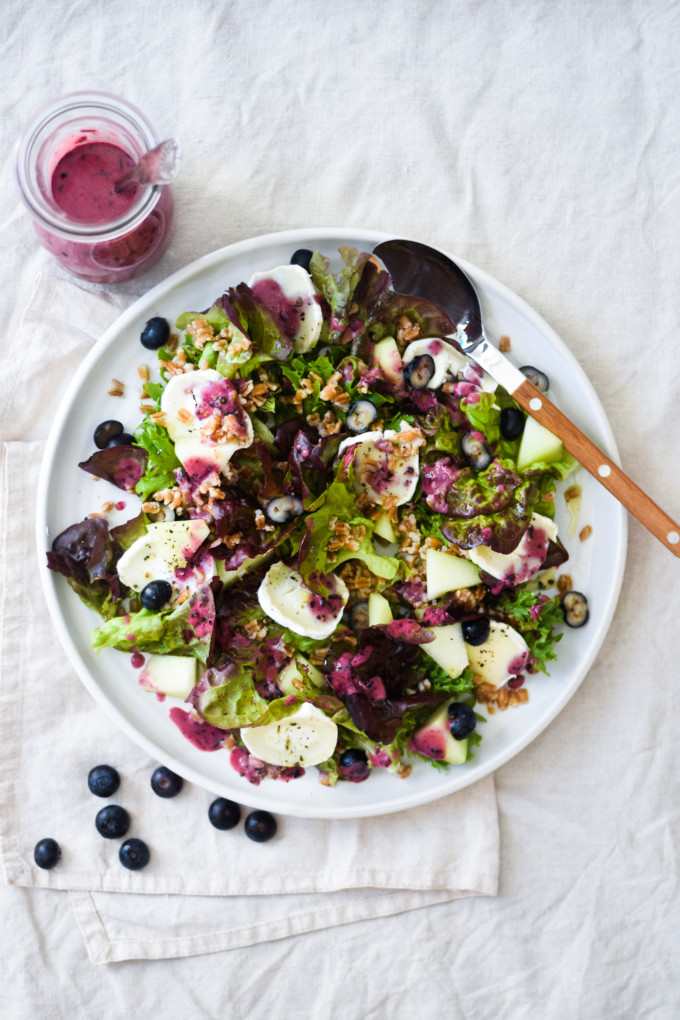 Blueberry vinaigrette goes with so many salads
I am using the blueberry vinaigrette to drizzle on top of this lovely salad with mixed greens, goat cheese, melon and spelt berries. All ingredients are chosen to suplement each other. The vinegar brings acidity to the dish, the goat cheese some salt and melon some sweetness. Then finally the spelt berries makes this salad a filling meal.
But actually you can use the vinaigrette for all kinds of salad. And in this recipe there is enough blueberry vinaigrette for a couple of more salads. Just keep it in the fridge for up to a week and remember to just quickly give it a stir before you drizzle.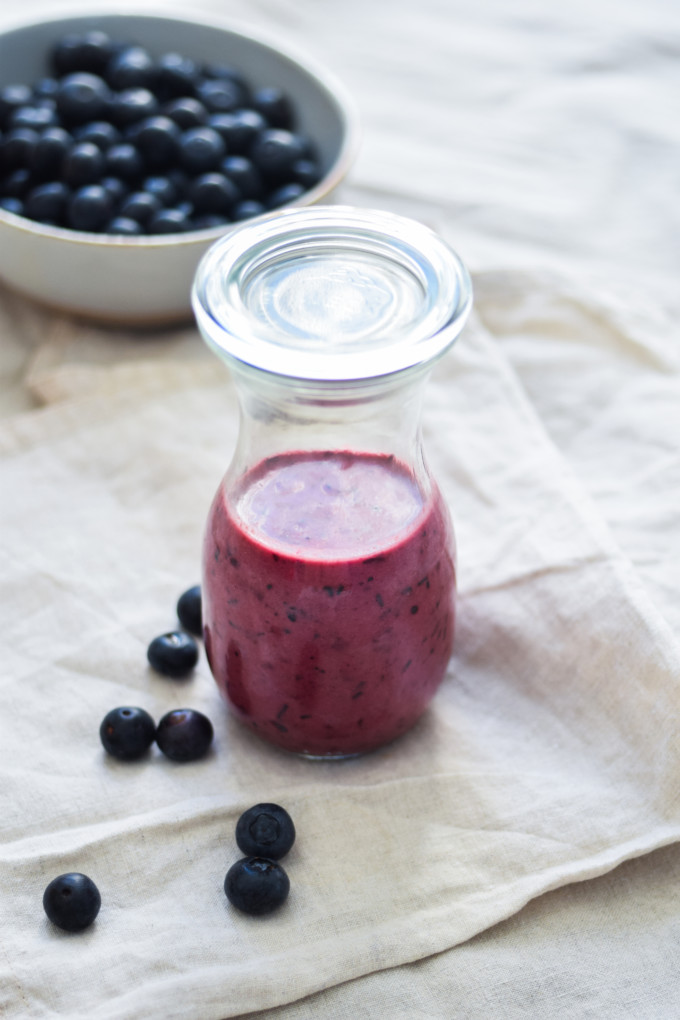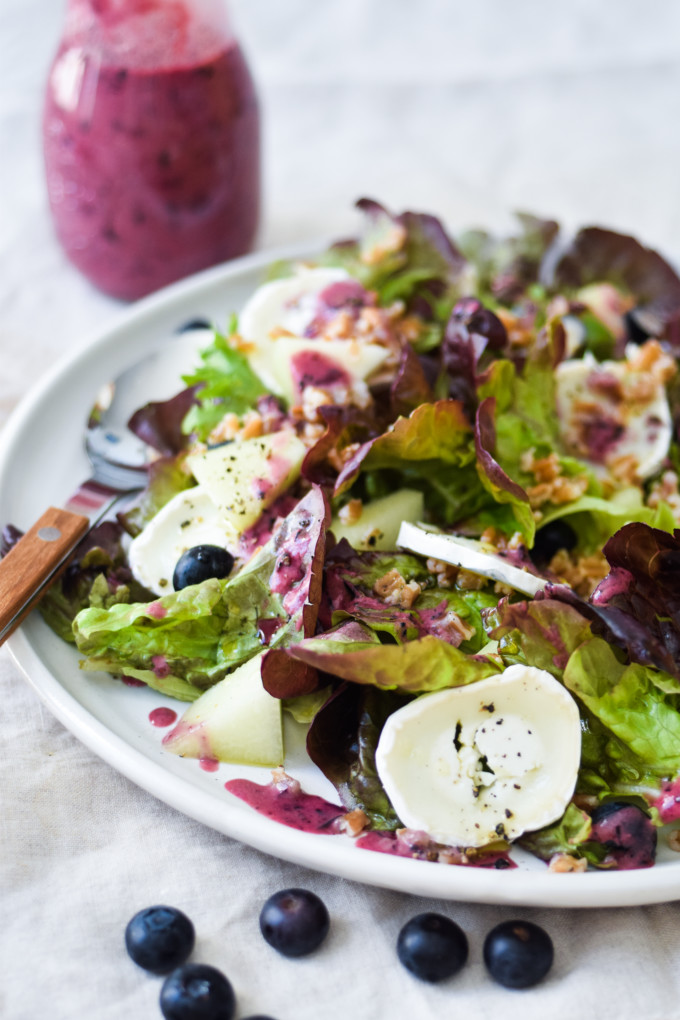 More recipes with blueberries
I just went through the blog and I have many more recipes with blueberries. We have a lot of them here in the Nordic countries so when it's season, there's no excuse for not making something delicious in the kitchen!
If you are just as big a fan of blueberries as I am, why not make these recipes:
Blueberry vinaigrette and the best blueberry salad
Spelt berries
1 dl (0.4cup) parboiled spelt berries
Approx.2.5 dl (1 cup) water
1 tsp olive oil
Salad
150 g (5.2 oz) mixed greens ((I used Frillice and red oak lettuce))
100 g (3.5 oz) organic goat cheese log
1/2 small Galia melon
25 g (1 oz) blueberries
Blueberry vinaigrette
125 g (4.4 oz) blueberries
1/2 dl (0.2 cup) olive oil
1 tbsp apple cider vinegar
1 tbsp balsamic vinegar ((or or you can easily use 2 apple or 2 balsamicvinegar instead))
2 tsp Dijon mustard
2 tsp agave syrup ((or Acacia honey))
Freshly ground pepper
Boil the spelt berries under a lid for approx. 20 minutes until tender. Drain excess water and toss them with a little olive oil. Let them cool.

Place the ingredients for the blueberry vinaigrette in a blender and blend. Season with freshly ground pepper and pour into a jar.

Rinse the salad and break into smaller pieces.

Peel the melon and cut into smaller pieces. 

Place the salad and melon on a big plate.

Sprinkle with spelt berries and blueberries and place slices of goat cheese on top.

Finally, drizzle over the blueberry vinaigrette and serve the rest of the vinaigrette on the side.