Orange date energy balls will always be my favorite go-to snack when I need a little extra energy kick for example in the afternoon with a cup of coffee, or at noon before lunch. They are healthy but taste like cake and they are incredibly easy to make. Only 5 ingredients for this recipe, which we like! Right?…
My 3 year old son is totally addicted to these and so is his mother. When I pick him up from kindergarten, he very often asks "Mom, did you make date energy balls, or "daddelkugler" which it's called in Danish! So cute.
Very often I also add some hemp seeds or chia seeds just to add extra healthy fats and protein to them which is good for him. He doesn't notice and mom is happy! In my newest cook book, Green Breakfast, I've actually also added shredded carrot, which is also a perfect way to add extra veggies to your childs diet.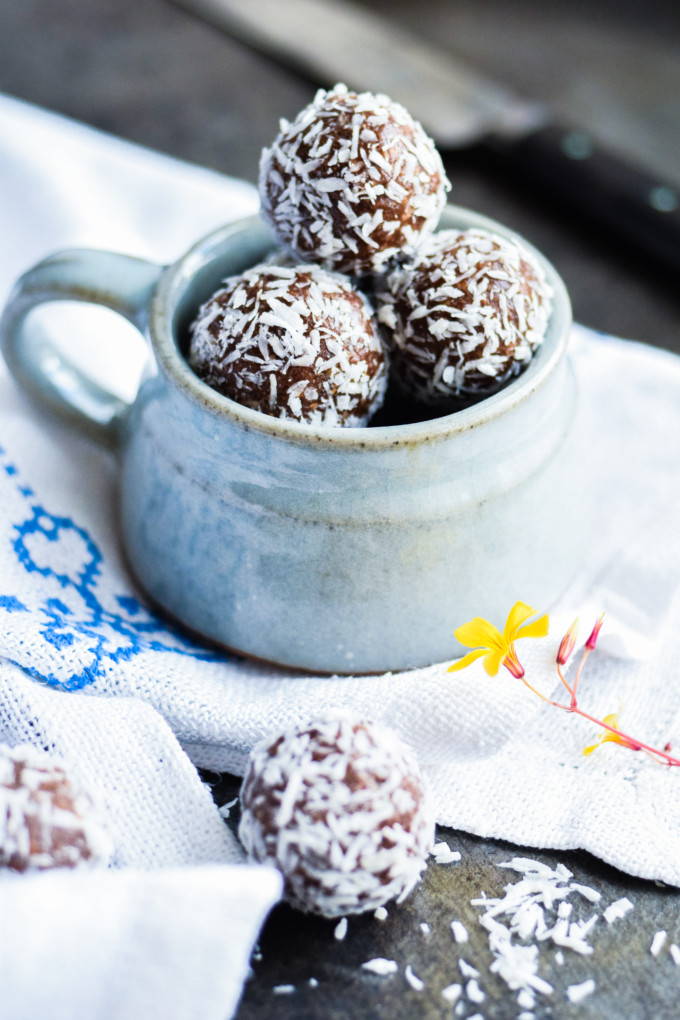 Variations of orange date energy balls
The good thing about these date energy balls is that you can really customize them to your own personal taste. Here I've used orange zest but lemon zest also tastes amazing! Below I've listed some other suggestions that works really well too. One of them are inspired by these Christmas date balls.
Finely grated lemon zest and vanilla powder
     Finely grated fresh ginger
     Pinch of cardamom and cinnamon
     Cookie Spice
     Licorice Powder
     Add superfood powder such as baobab powder, goji berry powder or curcuma powder.
Orange Date Energy Balls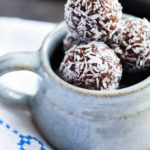 7 Medjool dates
50 gr (1.7 oz) unsalted Cashews
25 gr (0.9 oz) coconut
Orange zest from 1/4 organic orange
2 tsp unsweetened cocoa
Put dates, cashews, finely grated orange zest and cocoa into a food processor and blend until you have a consistent dough.

Add coconut and blend again for a few seconds at full strength until it appears coherent, but some coconut is still visible. I like it when there is still a bit of texture.

Shape into small date energy balls. Roll them in coconut and refrigerate for up to a week.