This pickled herring recipe with curry mayonaise, apple and dates might sound like a bit weird combination for you but in Denmark it's pretty normal to eat pickled herring with a curry sauce. It's simply made by mixing a good mayonaise and creme fraiche with curry powder, salt and pepper.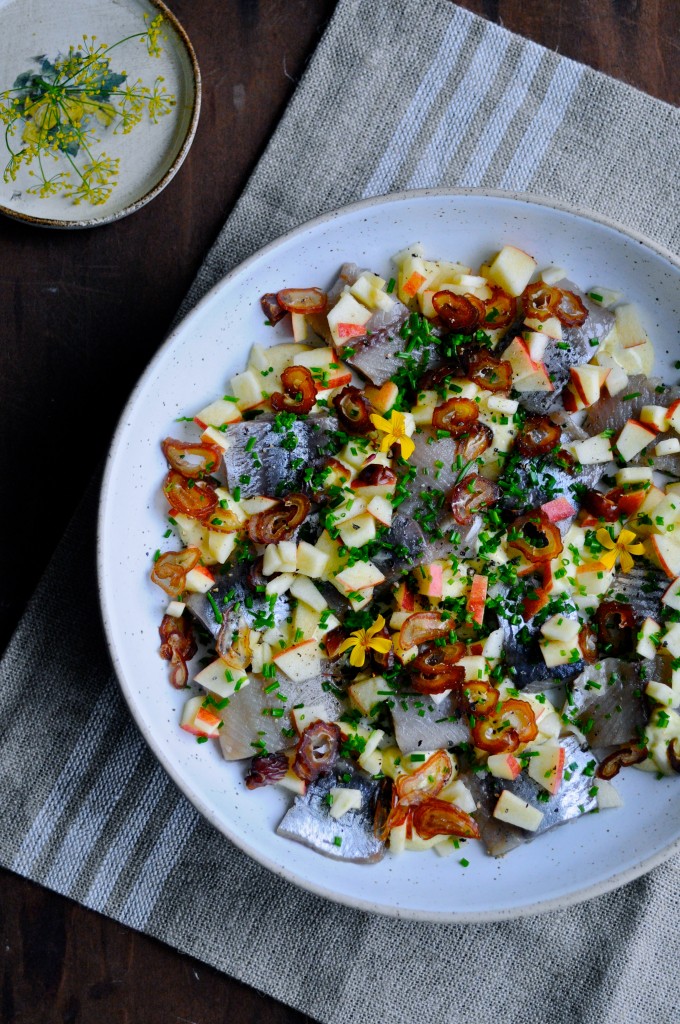 It's a salad!
The little bit unusual thing about my recipe is that I made a salad with the pickled herring instead of traditionally putting the herring on top of a slice of rye bread. You know, what we here in Denmark call Smørrebrød.
Pickled herring recipe with toppings such as apple and dates
I'm topping my salad with small pieces of apple, chopped dates and lots of fresh chives. The curry sauce is so good together with theese three ingredients. Not to talk about the sauce together with the heering. That's really good. I would still though serve this salad together with some wholegrain bread, rye bread if you can get a hold of it, or otherwise just something similar.
It's the perfect lunch dish for when you have friends or family over. I often serve this dish for holidays, like Christmas and Easter and everyone I know that likes herring, digs this. Thankfully ; )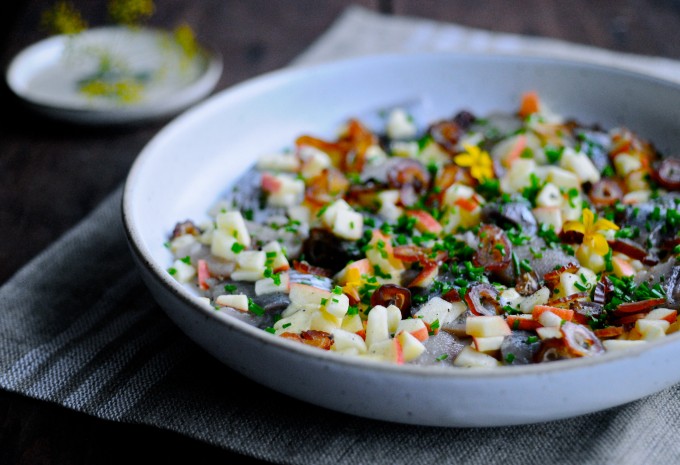 Pickled Herring Recipe
Super delicious and a little bit different than your average pickled herring recipe!
200 gr pickled herring (buy a good store bought one, you can also make it yourself)
1/2 red apple
3-4 dried dates
lots of fresh chives
Curry sauce
1 1/2 tbsp mayonaise
1 tbsp creme fraiche
1 tsp medium strong curry powder
salt to taste
freshly ground pepper
Slice the herring into small bites and place them on a big dish.

Cut the apple into small pieces and sprinkle them over the herring.

Chop the dates and sprinkle them over the herring.

Mix mayonnaise, cream fraiche and curry together and season with salt and pepper. Pour over the salad.

Finely chop the chives and sprinkle it over. Finish with freshly ground pepper.