I made this salsify salad the other day and it was a big hit. Especially with my husband Mikkel. My little son Nord, who soon will be 2!, weren't that crazy about the salsify part. But enjoyed picking out all the apples in the salad.
Me? What can I say, B A C O N wrapped salsify. I was a FAN way before I even made this recipe.
Salsify salad with those funny little roots
It's actually the first time I'm making anything with salsify. I've seen them once in a while in the supermarkets, when they're in season, but never dared to bring them home. It wasn't until I got some in my weekly organic fruit and vegetable box that I've subscribed to that I said ok, lets do this now.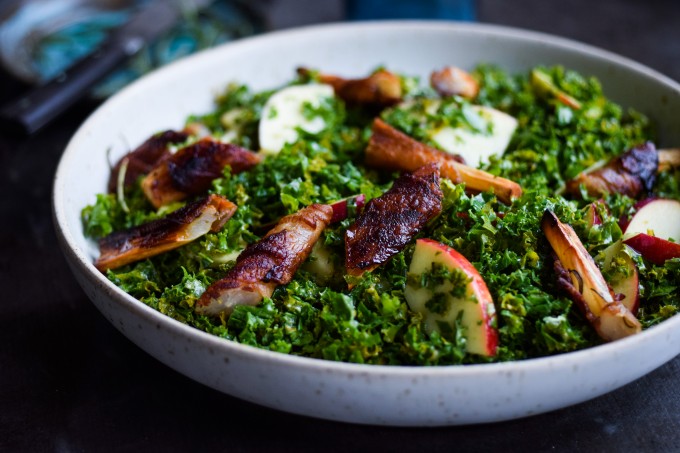 And I'm glad I did. Because bacon wrapped salsify together with my number one salad, kale, and apple make THE best salad ever. Not least, I have to say, because of the always popular Dijon mustard dressing. So give it a try. I hope you like it, just as much as I do!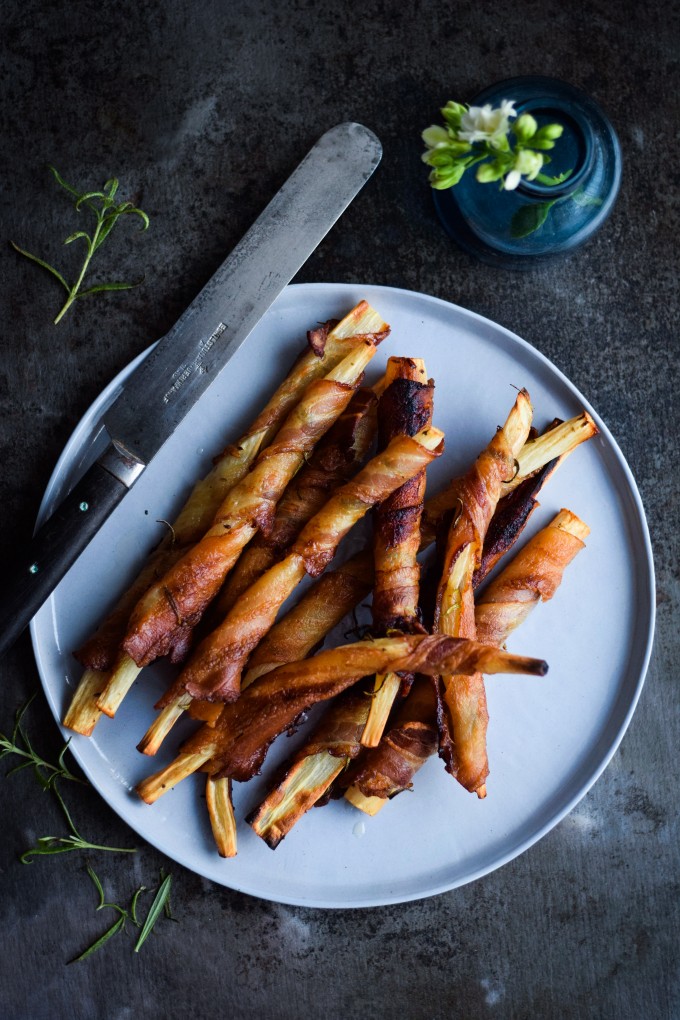 Salsify salad with bacon, kale and apple
Lovely and a little bit out of the ordinary kind of salad. This salsify salad is soooo good!
100 gr (3.5 oz) finely chopped kale
1 red apple
6 salsify
6 slices of bacon
3 fresh rosemary sprigs
Dijon mustard dressing
2 tbsp olive oil
1 tsp Dijon mustard
1 tsp agave nectar
1 tsp apple cider vinegar
Begin by peeling the salsify. Fold bacon around the peeled roots along with fresh rosemary leaves.

Place them on a baking pan with baking paper and bake at 200 degrees for approx. 35 minutes or until the roots are tender and the bacon is crispy.

Mix the finely chopped kale with apple cut in bite-sized pieces.

Stir in the dressing.

Cut the bacon wrapped salsify into medium sized bites and place them on the salad.

Serve the salad while the roots are still warm.