This broccoli couscous is the perfect side dish to almost any kind of meat and fish or as a kind of salad to serve along with a lovely vegetarian quiche. And I think that it will make up for a perfect light side dish for Autumn and even Christmas's many heavy but oh so delicious stews.
Just imagine this beautiful broccoli couscous together with a lovely, tender lamb stew. Yum!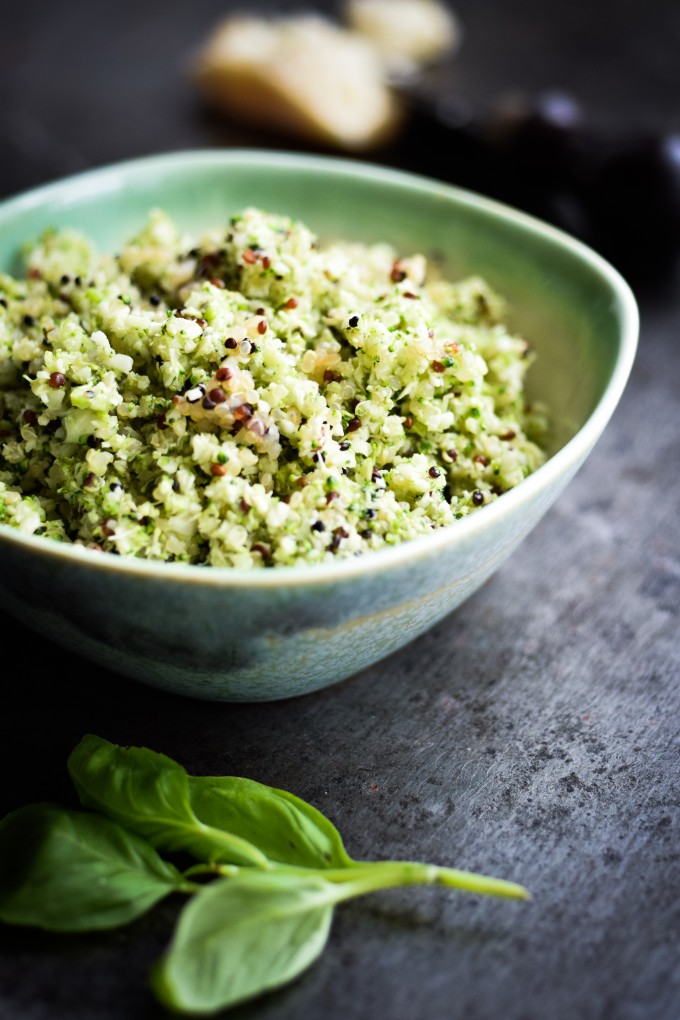 I actually made this broccoli couscous yesterday, which was also my birthday btw, (Yep I'm that big a fan of this low carb couscous) together with a whole grain pizza with all my favorite toppings. As you probably can imagine, it was the best birthday dinner!
But not all that healthy though, don't worry, as I finished the meal with a proper double espresso and a cookie, or two or 4!…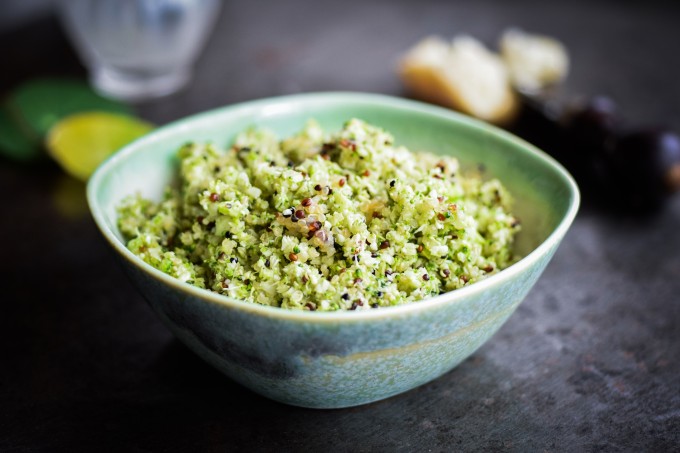 Broccoli couscous
Lovely and light broccoli couscous for easy weeknight dinners. The perfect side dish!
250 gr (8.5 oz) broccoli (I also use the stalk)
1/2 dl (0.2 cup) quinoa
1 dl (0.4 cup) water
30 gr (1 oz) finely grated parmesan cheese
1 large handful fresh basil
1 tbsp olive oil
aple cider vinegar to taste
salt
freshly ground pepper
Rinse quinoa and boil at low heat until all water is absorbed. About 10 minutes. Let it cool.

Put broccoli, parmesan cheese and fresh basil in a food processor and blend into a couscous like texture.

Pour the broccoli couscous into a bowl. Season with olive oil, apple cider vinegar and salt and pepper.

Mix with quinoa and serve. Garnish with parmesan and fresh basil
Broccoli couscous or cauliflower coucous?
Yep, as the headline indicates, you can easily substitute the broccoli with cauliflower. It's also really good, and right now Danish cabbage such as those two are at it's best. They're in season just right now. Super super healthy , tasty and what can I say, I just LOVE CABBAGE.
And now we're at it, how about taking a look at my many other cabbage recipes for example this kale salad with beets and sunflower seed butter or my easy kale salad recipe with bacon and dried figs.