A healthy raspberry chia jam. Sounds great doesn't it? Maybe almost too good to be true. But this raspberry chia jam is so easy to make and with no refined sugar at all. Instead I've used medjool dates.
Oh, how I love those dates, which some of my earlier recipes also shows. For example these healthy date balls or these . They are just THE BEST natural sweeteners. I've actually made a healthy jam recipe before but with blackcurrant instead of raspberries and that's also a favorite of mine.
For this recipe I've used the sweetest raspberries I picked myself some time ago on a nice summer day. But you can easily use some store bought, if you haven't had the chance to pick some yourself.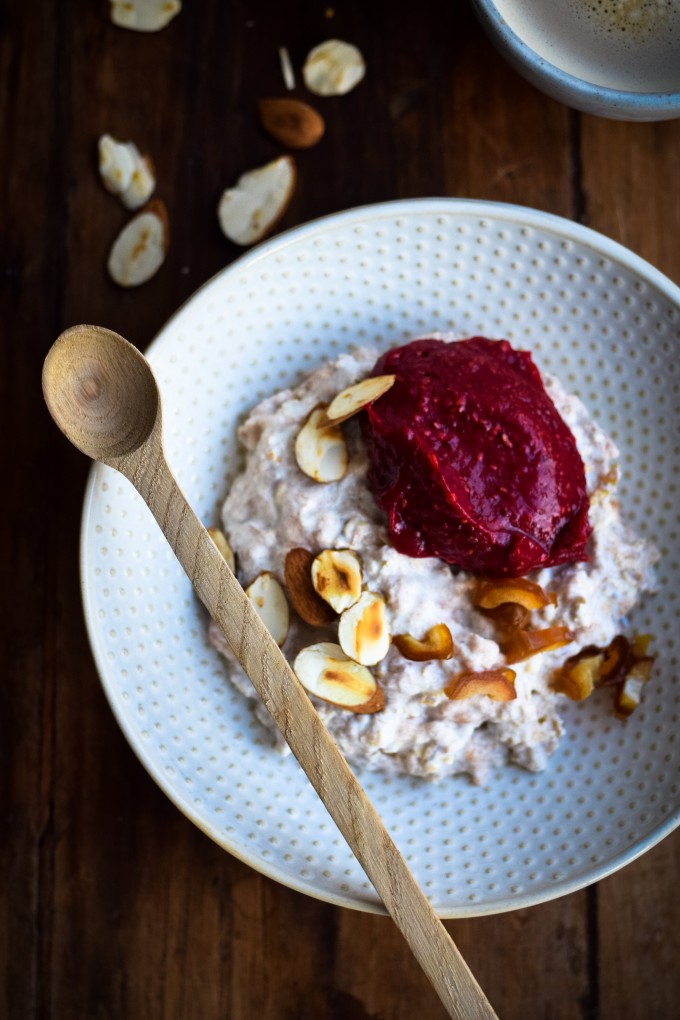 Raspberry chia jam goes with anything
This jam is perfect for a whole lot os things. First of all nothing beats a nice, warm porridge with a great spoonful of this lovely jam. Or as in the pictures on top of a homemade portion of Bircher muesli.
Also you can use the chia jam for dessert together with ice cream or maybe in nice company with a soft and moist brownie! Anything goes. Lets just say it's a great match to A LOT of things.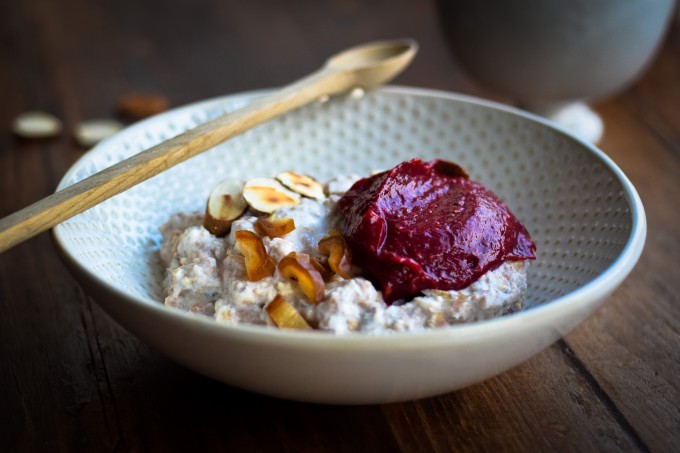 Raspberry chia jam
Healthy Raspberry chia jam made without refined sugar but natural sweetened
200 gr frozen raspberries
A pinch of pure vanilla bean powder (or paste)
1 tsp finely grated lemon zest (from an organic lemon)
3-4 pcs medjool dates
1 tbsp chia seeds
Place the frozen raspberries in a pan together with vanilla powder and lemon zest. Let the berries boil for a couple of minutes.

Turn down the heat and add chia seeds. Let it simmer for a few minutes.

Remove from heat and let it cool

Put it all in a blender and add medjool dates (remember to take out the stones). Blend until the dates are dissolved. Add more if you want your raspberry chia jam to be more sweet.

Pour the raspberry chia jam into a sealed container and put it in the fridge. It lasts up to three days in the fridge. But believe me! It's gone by then ; )